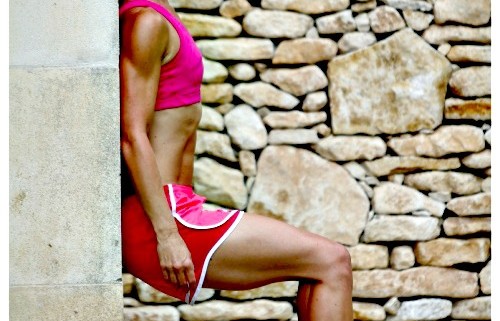 So it probably wasn't the best idea to
go for a long walk
the first day I took my boot off.
I do have a new foot brace,
but this one doesn't quite cut the mustard
yet…
Still,
when a couple of clients cancelled their
sessions this afternoon,
my mum
who was here to look after my babies while I worked
said
"let's go to Wentworth & watch the
Celebrity Pro-Am"
err….
you don't have to twist my arm when the
word celebrity is involved!
So we packed a little lunch
and off we popped
down the road to watch the golf.
My Mum
LOVES
golf.
She's pretty good at it too.
I used to play BC
but
these days it's more likely to be pirate ship golf
(if you haven't been to this crazy golf place with your kids yet – look it up, it's brilliant)
or the driving range with the little L's.
Anyway,
the day
was actually a family affair as
my hubby had been invited to caddy for
a friend who was playing in the competition
which was super cool too.
So we bumped into a few
'celebs'
on our way round the course.
First up,
"the man off the radio"
as Louie called him


(remember how we love to dance around the kitchen on a Friday to the Happy Days theme tune on BBC R2?)
Then…


they found Alan Shearer.
Funniest bit here was
when he took his practice shot on the tee
&
Louie, giggled and said,
"hee hee, he missed!"
Luckily he said it quietly so AS wasn't put off but
the people in the crowd around us thought it was hilarious!
Lastly…


awww…love Dec.
&
he isn't even crouching down… 😉
To be honest, I wanted to be in that little hug too.
So after 20,000 steps
(which I probably shouldn't have taken, but the memories of a great day with the family make up for it)
my foot is in a bucket of ice again.
Ah well,
they say in golf
as in life
it's the follow through that makes the difference
So I'll rest it tomorrow 😉
I'll leave you with a  little thought from Tiger this evening…
Night Night
Melissa
xx
https://fit4mum.com/wp-content/uploads/2015/05/IMG_13671.jpg
741
500
Melissa
https://fit4mum.com/wp-content/uploads/2016/01/health-and-fitness-tips-and-training-for-women-main-logo-large.png
Melissa
2015-05-20 22:03:40
2015-05-20 22:03:40
A long walk...